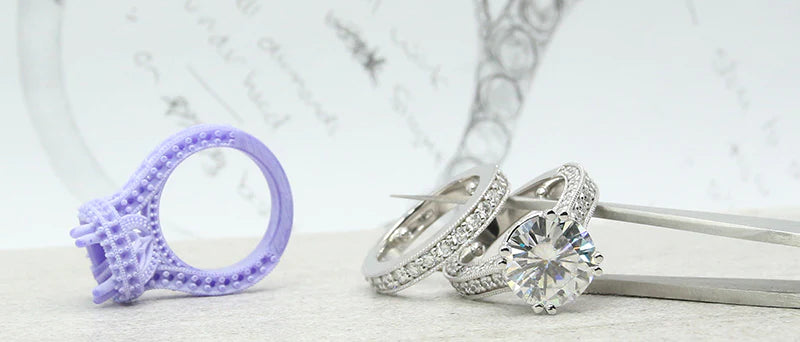 We breathe life into jewellery that will be passed down for generations.
Custom design jewellery is not as costly as you might imagine. With your input and our expertise, together we can develop a treasured one-of-a-kind piece while working within your budget.
Meet Laura
Come in and meet with our jewellery design expert, Laura Moser. Laura started her career as a graphic artist and has been working on custom jewellery designs for the past 10 years with over eight years of digital rendering (CAD) experience. 
READY TO GET STARTED?
1. Visit us at 82 Brock Street West, Uxbridge
2. Call us at 905-852-7846
3. Or use the form below to get in touch.
We can't wait to speak with you about your custom piece!
★★★★★

"I picked up my daughter's wedding ring today and I would like to thank you very much for an outstanding job of placing an emerald in place of the one that fell out so many years ago, and making it sparkle to life. The ring was my Great Grandmother's and has been in the family for a very long time…and it will now have an honoured place on her Great Great Grand-Daughters wedding finger. Excellent work." 

David A.
★★★★★

"My Fiancé and I just got engaged and we couldn't have done it without the help of everyone at Rutledge jewellers, especially a great big shout out to Hailey for all of your patience with our countless emails and visits to the store! I would recommend Rutledge to absolutely anyone! We couldn't be any happier with the service and final product of the custom ring Rutledge was able to make for us and we look forward to doing all of our future business with them. Cheers to such an incredible group of people who make up one very amazing jewellery store." 

Carlyng & Kevin
★★★★★

"Thank you so much for the redesign of our lovely amethysts. I wanted you to know how thrilled we are with the results. Our daughters will love them for sure and our granddaughter when she is old enough to appreciate them. Laura your guidance and suggestions were spot on and the pieces turned out just as we envisioned. We can't thank you enough! Scott it was nice to meet you again. Steve and I lived in Uxbridge for 16 years. You helped us out with the restoration of a very old clock that still works. We came back because we know that we could trust you with our "special" jewelry." 

Steve & Judy